Published on : 22/05/2020
Named Sport and team Cofidis : a win win partnership
Our Italian partner develops a whole range of products essential to the performance of our runners. Whether before, during or after the effort, the Named Sport range is a strong ally for our team.
---
SPORT INTEGRATION BEFORE, DURING AND AFTER PERFORMANCE
How do I replenish the energy I lost on my bike? When and how do I use the right supplements? Should I use them also before and after the performance?
These questions are very common to all cyclists, whether you are a professional or an amateur, as food integration is a key factor to achieve the best performance both in the race and in training. In fact, you cannot limit the use of supplements only in days of competition, because the body also needs them in the phase of athletic preparation.
First of all, integration is divided into three phases: before, during and after the performance.
In each of these phases the body of an athlete has specific needs, which are met with specific supplements and timing of use.
There are many variables to consider when preparing your integrative plan, among them there is the type of route to deal with, the individual characteristics of each athlete, the environmental characteristics in which training and races take place. In this period, for example, we have all been forced to indoor training with the use of bike-rollers, which is usually carried out in warm and little ventilated environments and therefore needs careful hydration and a targeted energy intake.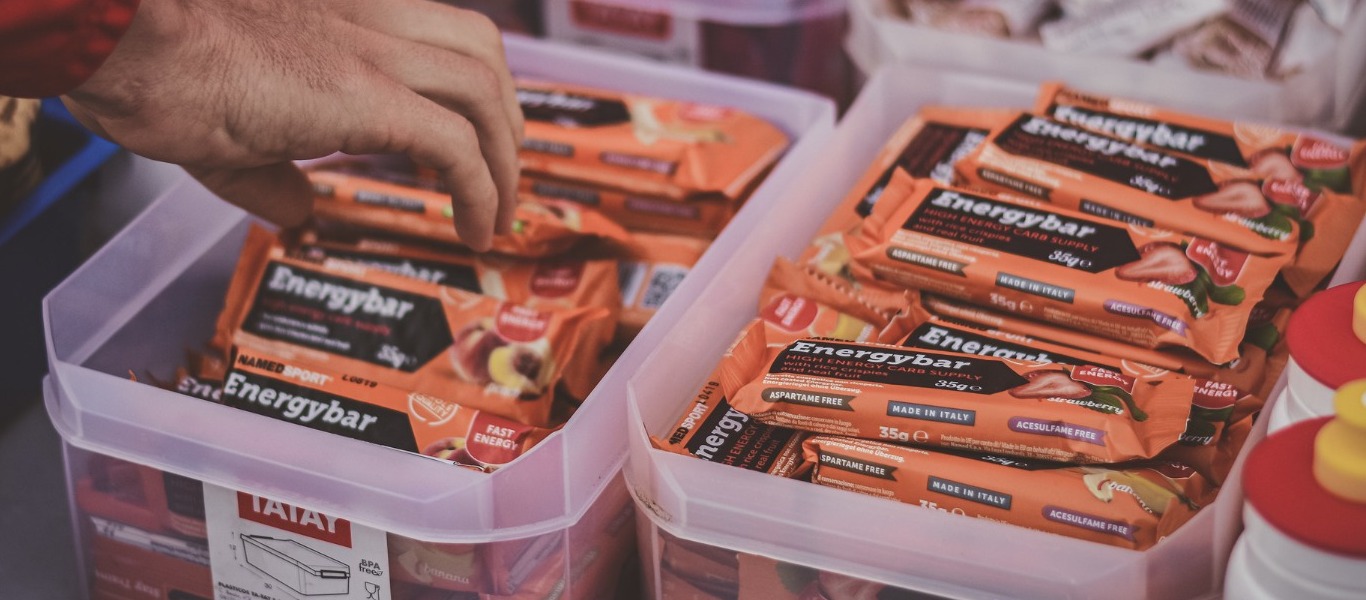 The Nutrition Trainers of the NAMEDSPORT> Academy have prepared a complete and versatile nutritional plan, which meets the needs of a cyclist in every context and outlines the three basic stages of reintegration.

BEFORE THE PERFORMANCE
At least 30 minutes before the start of the activity, maximize hydration and energy load with:
> Sport Gel>, Sugar-based energy gel at different absorption rates, with Caffeine (for the Cola-Lime flavour) to counteract fatigue and tiredness, providing balanced and prolonged energy.
> L-Carnitine Shot, with its special fast-absorbing formulation, promotes immediate and higher energy bioavailability.
> Total Energy Fruit Jelly>, ideal to supply energetically the athlete in a constant and gradual way based on real fruit, enriched with Magnesium and Potassium.

DURING THE PERFORMANCE
Keep a constant supply of 70g/h of carbohydrates while sipping an isotonic drink and regularly eating energy bars or gel at your discretion.
> 1 maltodextrin based gel every 50-70 minutes of activity, to be chosen depending on the moment, between Total Energy Carbo Gel>, Total Energy Hydra Gel>, Total Energy Amino Gel>
> 1 energy or protein bar every 60-90 minutes, alternated with gels, to be eaten in small mouthfuls. Choose between Energybar, Total Energy Fruit Bar>, Proteinbar, Crunchy Protein Bar
If the training lasts several hours, drink small sips every 5-10 minutes, do not wait for the sensation of thirst. For proper hydration we recommend:
> 1 sport-bottle of HydraFit>, a mix of Mineral Salts, Maltodextrin and Vitamins ideal for hydro-salt integration during intense physical activity.
> As an alternative to HydraFit>, prepare 1 sport-bottle of 500ml with 30g of Isonam Energy, designed for a proper recovery of energy and saline losses in case of prolonged physical performance, and 1 sachet of Aminonam Sport, Branched Amino Acids and group B Vitamins, perfect to contribute to normal energy metabolism and to reduce the sense of fatigue, to be sipped every 10 minutes and to be recharged every 90-100 minutes.
> 1 sport-bottle with 500 ml of water to be alternated with the other sport-bottle, drinking in small sips within 50-70 minutes. If you want, you can add to this sport-bottle 50g of Maltonam, a mix of simple and complex Carbohydrates with neutral taste at gradual and constant release, useful for the proper functioning of energy metabolism.
AFTER THE PERFORMANCE
Quickly replenish the energy supplies consumed during your performance to maximize the recovery process, reduce muscle pain and minimize the physiological lowering of the immune system.
Within 30 minutes from the end of the physical effort, depending on the duration of the race or training, we recommend (the following products can be taken all together):
> 1-2 sachets of 4Fuel>, a specific formulation designed to replenish the minerals losses due to intense sports activity and support the physiological recovery phase. The Magnesium contained inside helps to reduce tiredness and fatigue.
> 1 sachet of Total Energy Recovery>, designed to support muscles after an intense training thanks to Cyclodextrins, which ensure a prolonged release of energy. Alternatively, we recommend Total Energy Recovery> PRO+, a refreshing water-based recovery drink with 30g of Isolated Whey Protein. Its unique, innovative and highly technical formulation is specifically designed to promote the immediate recovery of an athlete thanks to the high speed of assimilation of its components.
Having satisfied this first and more urgent phase, you can give yourself a meal with high glycemic index (rice, potatoes), accompanied by your favorite food as a reward!